LIFETIME WARRANTY
Energizer is one of the only technology equipment manufacturers in the world offering a wide range of lifetime warranty accessories. This is a strong commitment of quality from the American brand.
"Lifetime warranty" is a warranty service that refers to the life of the product, not related to the buyer or any other individual. Energizer's lifetime warranty products are designed and designed to work optimally for the longest period of time under normal conditions of service and use.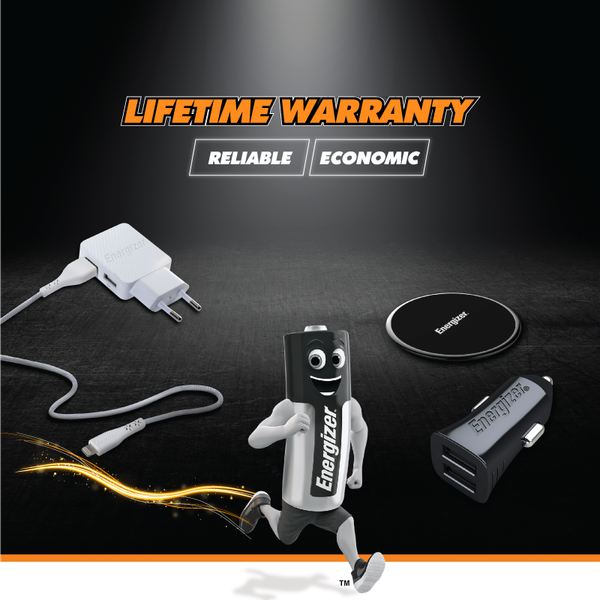 The product group of lifetime warranty is being provided by Energizer to users around the world including: car chargers, car chargers, wireless chargers, charger cables, monitors, audio cables. All products committed to a lifetime warranty are manufactured from durable materials and high quality to be able to withstand good impact and withstand strong traction along with the most modern features that each product needs.
Over time, these products may be worn or outdated or incompatible with the latest technological equipment due to technological progress, we call it the natural end of the waiting period. product. Considering these factors, the reasonable service life of lifetime warranty accessories will be about 5 years from the date of original purchase.
When buying products under the group of lifetime warranty, the authorized distributor of Energizer will support customers to register for a lifetime warranty or customers declare their information according to the online purchase case form.
After completing the registration, customers will receive a confirmation email from the company. In the first 2 years, customers will contact the warranty with the unit / store to buy the product. In subsequent years, customers will send an email (on the email registered for a lifetime warranty at the time of purchase) information that should be warranted with an error status. After confirming the error, we will exchange new products for customers.
List of products under the lifetime warranty group, and information declaration, refer to at:
https://www.energizeyourdevice.com/en/services/lifetime-warranty/